THE DRIVING RANGE IS NOW
OPEN FOR A LIMITED TIME!! 
HOURS OF OPERATIONS:
8:00 a.m. – 8:00 p.m. 7 DAYS A WEEK
We are excited to announce the first 2 phases of Riverbend's driving range renovation are complete! The driving range is now open for a limited time – come check out what we have done so far! The first 2 phases of construction included replacing the artificial turf with natural grass, reshaping and leveling the range field while expanding it out to Russell Road, installing new poles and nets, updated parking lot, and putting in a raised crosswalk across Meeker Street. 
The final phase of the renovation will include building renovations and the addition of 14 new driving range stalls. Construction will begin in a few weeks. So come and practice your  swing while the range is still open!
Teeing Off – Seattle Times Article – CLICK HERE TO VIEW

Groups are required to be 4 players or less.
Currently no groups of 5 golfers will be allowed to play together in the same pairing.
__________________________________________________
Riverbend Golf Complex and Learning Center is set apart from other courses in Western Washington. Riverbend provides various recreational activities for both the golfer and non-golfer, and a variety of programs for every skill level and age group.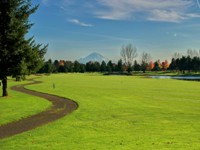 6,663 yard 18-Hole Course
Covered Driving Range
Miniature Golf Course
Discount Golf Center